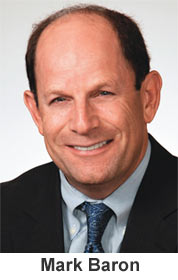 Baron Long Term Care Insurance is an independent agency, specializing in Long Term Care planning. Mark Baron represents the major insurance carriers that offer various types of long term care coverage. He assists clients, educating them on the issues we all face, and the effects on family members when extended periods of care are needed. Mark finds the correct solution to fit each individual's unique situation. His general agency supports insurance producers, financial planners, attorneys, CPA's, and other financial professionals, in assisting their clients.
Mark has done several radio shows in the Boston area, including Money Matters, on Boston Business radio, several shows on WBZ, and been profiled in the Boston Globe. Mark also teaches many workshops throughout the region to financial professionals and individuals on planning for long-term care. He is currently on the legislative committee for the Mass. Association of Health Underwriters.
Mark is licensed in several states around the country, including the entire Northeast.
Phone: 617-823-8334    Email: [email protected]